Beauty, love, seduction, fashion, marriage, motherhood: all fit into these 'harmless small texts' of Clarice Lispector, which were published under a pseudonym, in women's pages of newspaper over the 1950s and 1960s and which are the inspiration for Ladies' Mail, a series in eight episodes directed by Luiz Fernando Carvalho and aired on the Fantástico TV show.
Helen Palmer, quite an avant-garde host from the past to meet with a present-day viewer, enlightens on the path of women who feel divided, between freedom and convention. Women who have grown, taken to the fore, and skyrocketed over the past few decades: those who struggle with love, family, and home life affairs, meanwhile pursue self-knowledge, and a place in an ever-changing society.
Intimate conversations with Helen Palmer (or Clarice) are therefore source for more than lovely sorority. They are also a mirror for what is left of the woman's inner world in the society.
Director's Vision
By Luiz Fernando Carvalho (2013)
Project
When I created this project, I didn't know exactly what format it would have. Wearing a Clarice Lispector mask could be a great idea: and that would be Helen Palmer, which is in itself more than a pseudonym. In the mask, we noticed Clarice herself seeping through the cracks, in-between the lines. Actress Maria Fernanda Cândido has followed such course, and portrayed the route between Clarice Lispector and Helen Palmer in a quite delicate way. It is not about the voice, the voice-over for that sake, instead she played a dual game, hybrid in nature, implied by Clarice's Helen Palmer.
Narrative
It was also interested in the fact that it was another dialog, by coming closer, creating a connecting with readers, as if it were the Facebook of those times. I understood that, amid the advices in the almanacs, Clarice addressed subjects which were relevant to young and older women. The structure revolved around three women: one post-teenager; a young woman, a little clumsy, comical; and a mature woman who could be in an existential crisis.
Art Direction
From an aesthetic point of view, the language of the project pays tribute to ads and fashion shoots of yore (1950s and 1960s). In the magazines, there was a full page in yellow with the model dressed in red, leaning on a blue and white car. A minimalism of colors and non-scenery, a classic of the best ad design of the time. While creating it, we get rid of the fat in scenographic elements, focusing the spatial dramaturgy on the colors and the costumes to allow the voice to come to the fore.
Timeless Issues
As far as almanacs are concerned, there are some passages and concepts that may have aged. On the other hand, our attention is drawn by their sentiment, verve, textual freedom, and especially the timeliness of certain feminine issues. We are invited to consider whether something has changed or not. We've had great advances, though some things may seem likewise carved in stone. The texts chosen point out to which remained very much the same in the female universe. Not for backwardness in the society, but for archetypal and human conditions. Loving and be loved. How to overcome the relationship crisis? What clothes to choose to go on the first date? No matter the social class of the women in the almanac, it doesn't matter if she is really in, or if she is a graduate student. Those are questions from 1800, 1950, and they will remain the same in 2300. Questions about affection and human relations are timeless. This timelessness of the text in an ordinary almanac. We are modern, postmodern… really?
At this point I find Clarice Lispector's reflection of "being dressed in her feeling" modern. She finishes it: "But if you want a bigger help: just use a yellow tape," as in the first episode of the series. The yellow tape is to make you safer, and to have faith. Faith in love.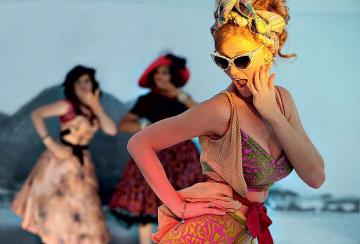 The soundtrack for the Correio Femininoseries consists of hits from the 1960s, during which time Clarice Lispector wrote most of the texts that inspired the script. The musical selection was performed by Luiz Fernando Carvalho and includes popular songs at the time, such as Elvis Presley's Love Me Tender, Chubby Chacker's Let's Twist Again, Brigitte Bardot's La Madrague, Neil Sedaka's Oh! Carol, and Be My Baby, recorded in 1963 by singing group The Ronettes. In the repertoire of Brazilian, records such as A Banda, starring Nara Leão, Menina Linda, the Renato e seus Blue Caps' version for the Beatles' I Should Have Known Better, and Clarice by Caetano Veloso.

Click on the photos to see more images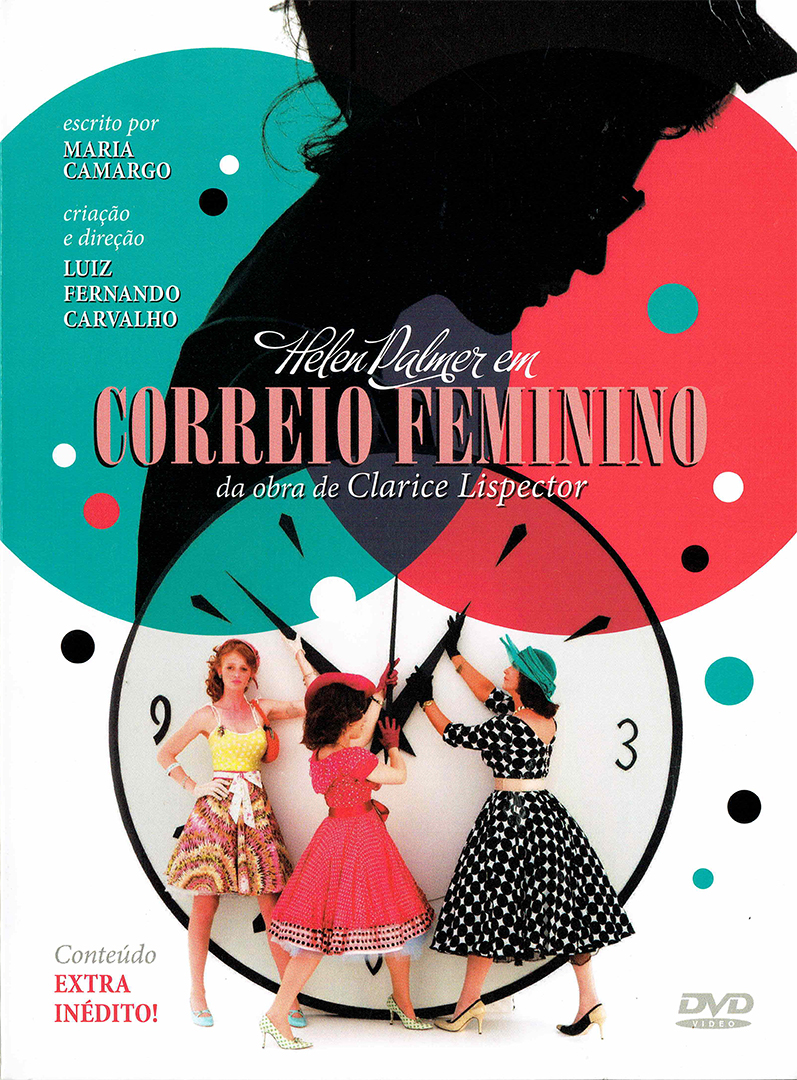 The DVD of the mini-series Ladies' Mail, based on the work of Clarice Lispector and directed by Luiz Fernando Carvalho, consists of eight episodes aired as a special segment on the Fantástico TV show. The edition also features the unreleased documentary film named Sob o Olhar de Clarice, directed by Raquel Couto.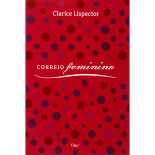 Clarice began working in the press in 1940 – three years before releasing her first novel, 'Closer to the Wild Heart' – meanwhile working as a seasonal collaborator for newspapers and magazines until two months before her death in 1977. For the first time amassed in one book, the early texts addressed a wide array of topics, from child rearing to beauty care; from rat poison to the pursuit of happiness; from choosing perfume to moral dilemmas. She could write everything between prosaic and transcendental with disturbing ease. Then, we just stumble upon another little known skill of Clarice to delve into. A skill that will most probably take by surprise and joy those reading this Ladies' Mail' through. That is the inspiration for the mini-series directed by Luiz Fernando Carvalho.
5, Nov — 2013
'Ladies' Mail' Makes In-Depth Reading by Clarice Lispector
"The pleasing, tasteful series, is as unassuming as the author's work. Carvalho drilled a well and extracted best quality oil. This without getting lost in pretentiousness."
Leia Mais
27, Oct — 2013
New Segment of Fantástico TV Show Introduces a New Clarice Lispector
"Unconventional, the show has gotten Carvalho's touch, one director that insists on being off the beaten path for a fresh approach to free TV."
Leia Mais
Press
Principais notícias
Correio Femininowith Maria Fernanda Cândido, Luiza Brunet, Alessandra Maestrini and Cintia Dicker.  Based on the works Just For Women and Ladies' Mail, by Clarice Lispector. Script Maria Camargo. Collaboration and Text Research Carla Madeira Scenography Keller Veiga Costume Luciana Buarque and Thanara Schönardie Art Production Marco Cortez Cast Production Marcia Andrade Musical Research Luiz Fernando Carvalho Character Makeup Rubens Libório and Bárbara Santos Edition Marcio Hashimoto Design Carlo Bêla Cinematography Warley Miquéias Executive Production Direction Maristela Velloso Assistant Director Antonio Karnewale Music Research and General Direction Luiz Fernando Carvalho